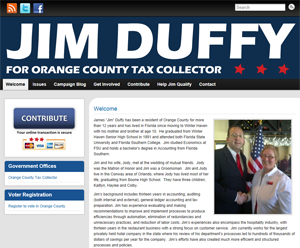 I've known Jim Duffy for a number of years. He's a great guy – hard-working, diligent, trust-worthy, intelligent and an all-around nice guy. When he asked me to design and build a website for him so that he could run for Orange County Tax Collector I was honored.
The days of running for local office by putting up roadside signs and speaking to the local Rotary club are long gone. Today, your message needs to be online – on websites, blogs, social media, apps and YouTube. The foundation of all online activity is, of course, the candidate's website. It has to be attractive, memorable, content rich, and easily found through search engine optimization.
I hope I was able to accomplish all this for Jim with his website ElectJimDuffy.com. Check it out and decide for yourself. And while you're there, take a look at Jim's platform and decide for yourself whether or not it's time for change at the Orange County Tax Collector's Office.