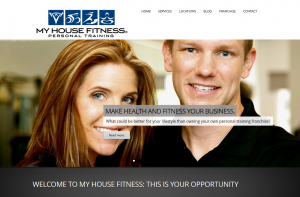 Who's not trying to shed a few pounds of fat and put on a few pounds of muscle these days? I know I am. With one-on-one personal training at My House Fitness, I've made a big difference in the way I feel, in the way I look and the way I live my life.
When the owners of the personal training franchise asked me to redesign their website, I was more than happy to put together for them a contemporary, clean design that fit with the upscale, modern feel of their gyms. They've helped me change my life, so I was happy to help change their lives, well, at least their web lives.
Take a look at what I created for them, and if you're looking to make a difference in your life, give them a call and schedule a consultation today.