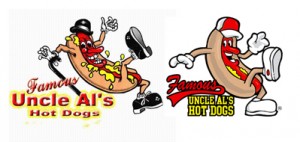 Famous Uncle Al's Hot Dogs, an award-winning restaurant based in Virginia Beach, Virginia, began franchising a few years ago. They had long used a hand-drawn logo featuring a hot dog in a bowler hat with spats and a cane. I was tasked with updating the logo to appeal to a younger crowd, while staying true to the original design.
The wiener received a face lift, a new hat, and some new kicks, along with an updated, "collegiate" type style. Gone was the splattered mustard and creepy facial expression – replaced with a finely-squirted condiment and a friendly smile.
The new logo stays true to the old, and retains Uncle Al's brand recognition, but looks fresh, clean, friendly, and inviting.
My advice to companies wanting to update a logo: If the logo has valuable, long-standing brand equity, don't start from scratch. Re-image, re-imagine, redesign, and retain. Don't ever reinvent.
I can help you update your logo. Contact James