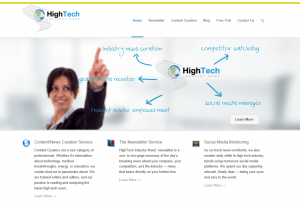 Content Curators are a new category of professionals. Whether it's information about technology, medical breakthroughs, energy, or education, they curate what subscribers are passionate about and cut through the crap to get to what's really important and what can't be missed.
HighTech Industry news is one of the leaders in news curation business, and the company recently engaged me to design a new, more modern, high-tech look for their website.
Full of whitespace and bold blues, the design is as cutting edge as the company itself. Information focused, without clutter and right to the point, this is web design for 2013. I'm happy to call HighTech Industry News a happy client.
For more information on content curation, visit HighTech Industry News.