Can a menu board update really make that big of a difference? Can a new look increase the bottom line? In a word, yes. In two words, oh yes.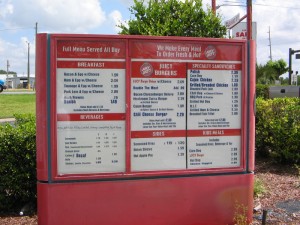 I was tasked with updating the drive thru menu boards at Juicy Lucy's, a fast food burger chain based in South Florida. The chain's burgers were great, but the lack of product photos and a dull layout, forced customers to spend precious, valuable minutes searching for the items they intended to order. When you're a double drive thru concept, with a business model based on speed of service, this is simply unacceptable.
With a little photography, and a lot of Photoshop, the Juicy Lucy menu boards now pop, and present the menu in a fresh, exciting, new way. And it's a whole lot easier, and faster, to order.
I think the re-image made a big difference. What do you think?
If your menu needs a re-image, contact James.